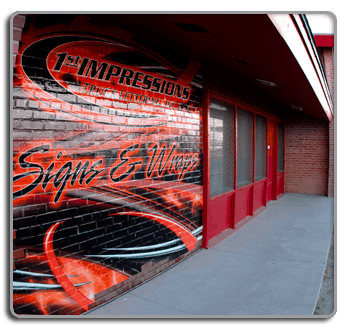 Providing quality vehicle wraps in Phoenix since 1994, 1st Impressions Truck Lettering has been wrapping cars, truck, vans and even buses with a very high focus on detail producing the type of quality workmanship our customers have come to expect from us. We are one of a limited number of 3M Certified Vehicle Graphics Installation facilities in Arizona, and the ONLY one in Phoenix and this allows us to provide a warranty on your installation backed by 3M. As a BBB A+ Rated, you can confident that your vehicle wrap will be performed by an upstanding organization. At 1st Impressions Truck Lettering, whether we're wrapping a single car or an entire 100 vehicle fleet, you can be guaranteed personal individual service. We offer free pickup and delivery service, onsite installation when needed, expedited fleet service, a clean and o, and the ONLY organized facility, convenient location, and a team of experts dedicated to your service needs.
The Staff:
The 1st Impressions team is made up of a team of experts with years of experience in vehicle wrap design and installation, signage, vehicle lettering and graphics, graphic design and marketing. In addition to our expert creative team, we also have a team of expert 3M Certified Installers. The entire 1st Impressions team is committed to timely turnaround times, jobs done RIGHT the first time, and 100% customer satisfaction.
The Location:
We are centrally located near downtown on 15th Ave & Van Buren, with easy access from both the I-10 and I-17 freeways. Our unique facility is in a renovated fire station and is enclosed in a secured gated area, and also has enclosed interior bays area large enough to house 2 semi trailers side by side!
The skilled professionals at 1st Impressions take pride in our customer service. We know how important your vehicle wrap advertising is and we want to make sure you are happy leaving your project in our hands. If you have any questions we will be happy to answer them for you. Our experts will be here from the initial quote process to the delivery of the final product and happy to help with any questions you may have through the process.
At 1st Impressions Truck Lettering of Phoenix, it is our mission to deliver the highest quality products and services. Although we specialize in vehicle wraps and vinyl lettering, the complete list of our areas of expertise includes:
Logo Design and Re-design
Vehicle Wraps and Truck Lettering
Graphic Installation
Indoor and Outdoor Signs & Banners
Corporate Identity Packages

T-Shirts
Vehicle graphics are vinyl adhesives with high resolution digital graphics printed on them. This over-sized "sticker" is placed covering the exterior of the vehicle. The process leaves the exterior unharmed and provides an extra layer of protection for your cars paint. This is a quick and relatively easy way to change the design and look of your vehicle or fleet of vehicles to better work to your advantage. Compared to old methods of single color vinyl application, or painting the exterior of a vehicle, a vehicle wrap can be applied to the whole car or a section of a vehicle to fit a project's budget and a companies design to the make of your automobile. At 1st Impressions Truck Lettering we use the highest quality 3M vehicle wrap materials. This product is backed by a manufacturer warranty and can last from 3 to 5 years. If by chance your vehicle graphics were to get damaged the whole wrap will NOT need to be replaced. We will instead easily print out a patch and seamlessly apply it to the existing car graphics allowing for a painless fix, at minimal costs.
Quotation
At 1st Impressions Truck Lettering we know our competitors can make receiving a quote a painful process. We do our best to alleviate the stress from this process as much as possible. To start we won't charge you to ask for a quote or ask us questions. We are happy to offer you help so you can make a well-informed decision. After submitting the
free quote form
, we take the information gathered and build you a quote tailored to fit your projects specifications. If you have any questions or budgetary concerns we suggest calling our representatives and we can make suggestions to help accomplish your challenges.
Design
Our highly skilled and creative design team will take your project from a quote, and will listen to your needs. Working within your already developed branding and other design restrictions, we can develop a creative solution for your marketing needs. We know how important it is to be able to have a clean and readable design that your customer can easily recognize as yours. Using our knowledge of design, impactful marketing, and the digital printing industry we can foster your design idea from concept to completion. Once we have a design that you are ecstatic with we'll then move forward to the production stage turning your vehicle advertising into a moving billboard for your company.
Production
If your design was created with the team of 1st Impressions the production phase of your project will be fast and painless. Our designers work hand in hand with our technicians to ensure that every car, truck, and vehicle graphic design we output is of the highest quality. Your files will have been made to the exact specifications as to ensure that our printers and installers won't have a problem.If you have designed your own artwork, we will do what it takes to ensure that we get the best quality output that is possible. Working with you or your designer we will communicate what we need to make the production of your project as smooth as possible.
Installation
A professional and quality installation of a Phoenix car wrap can be the difference between a seamless well-done project and something obviously done by under qualified installers. Here at 1st Impressions Truck Lettering the installation of your vehicle advertising is done by our skilled and 3M certified technicians. You can rest assured that your project will be done correctly, and your vehicle's exterior is safe in our hands. We will take care to not cause any damage to your vehicle's existing paint or body. It is our belief that our dedication to the highest quality installation in combination with our high-end design work is what helps makes our Phoenix vehicle wraps stand out and get noticed.
We take pride in delivering the very best, whether it's a design, a sign, or a vehicle wrap, we believe in quality!