I wanted to advertise on my car but wasn't looking to wrap my entire car and I didn't want cheap looking lettering. My husband recommended I look into having my back window down with the same material they use for wraps. I contacted 1st Impressions and they worked with me on designing and developing the perfect layout for my back window. They worked around my schedule to bring it in and had it done before they promised.
Vehicle Wraps…
Drive Business to Your Business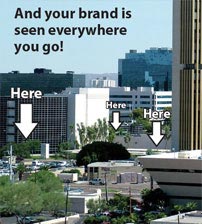 Vehicle wraps are not just the latest fad, it truly is one of the most cost effective advertising methods available today. We could bore you with statistics about the cost per impression or number of views per day your vehicle wrap will get, rather we want you to think about this:  Your vehicle is a moving billboard which works whether you are driving or parked. A professionally designed vehicle wrap will draw your customer's attention and get your company name and message across 24 hours a day, 7 days a week…even if your vehicle is parked at a restaurant or in your driveway.
Just what makes an effective vehicle wrap? An effective vehicle wrap is similar to nearly any other type of advertising that is one that gets your attention, gets your message across quickly and efficiently, and portrays a professional image of your company.
Undoubtedly you've seen trucks on the road lettered up with everything on them but the kitchen sink!  They are so busy that you'd rather not even look at them never mind buy their product. Unfortunately, there are many vehicles on the road that resemble this.
With a professionally designed vehicle wrap from 1st Impressions, your truck lettering or fleet of trucks will stand out in a crowd and drive business to your business.
Why choose to wrap your vehicle?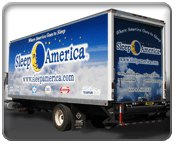 Why should you consider wrapping your vehicle as one of your advertising methods? Very simply, vehicle wraps work.  Think about some of the most successful companies, McDonald's, Monster Energy, Jack in the Box, and Pepsi, and what they put on their trucks and trailers – truck wraps! The old saying that "copying is the highest form of flattery" is true so if truck wraps work for the big companies, you can bet it will work for you.
Locally, have you seen the Phoenix City buses with all attorneys' faces, and other advertising sometimes covering the whole bus? There is never a shortage of advertising on these buses so feel confident that this vehicle advertising works. In case you are wondering, the City Transit company "rents" space on the sides of their buses and it's not cheap! They know the power of vehicle wraps in Phoenix, Arizona
Since you are already paying for your vehicle, space is free so why not take advantage of it by turning your vehicle into a moving billboard with a cost effective vehicle wrap from 1st Impressions Truck Lettering. Call us today or use the contact us tab to get a free quote. Start driving business, to your business, today.