Car Wraps Arizona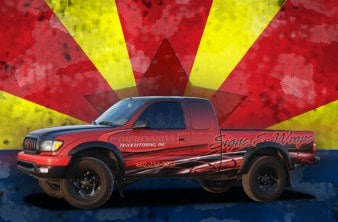 1st Impressions has a passion for creating high quality vehicle wraps that enhance the appearance of your vehicle by adding your company information and logos. Our professional and experienced team can create a custom wrap for you that will help get you noticed on the road and give you a return on your investment in no time flat!
What we offer:
Car Graphics
Vans and Bus Graphics
Truck, Box Truck, Semi-Truck Graphics and Lettering
Trailer Graphics
Custom Artwork and Signage
At 1st Impressions we pride ourselves in providing high quality work and exceptional customer service. For over 25 years, we have worked with many different companies to help enhance their business and help get their business noticed!
1st Impressions is one of the few certified 3M installers in the state of Arizona. We are the only shop in Phoenix that can provide a warranty backed by 3M. We were also given an A+ rating by the Better Business Bureau (BBB).
The staff at 1st Impressions is experienced in the field of vehicle wrap design and installation. They are also qualified to help assist with vehicle lettering and graphics, graphic design and marketing. The entire team is dedicated to wrap your vehicle with expertise, 100% customer satisfaction and of course, short down time to you. Time is money, and the less time your vehicle spends in the shop and more out on the road, the better!
Whether applying vehicle wraps to one vehicle or to 100 vehicles, you can be guaranteed quality, personal service and professional, experienced staff to help get the job done.
Car Wraps Arizona
Whether you are out on the road or parked in your driveway, a vehicle wrap will help get your business noticed. Car wraps work for you 24/7, 365 days a year. If you have a vehicle or even fleet vehicles that spend time out on the road, you are missing out on a great marketing opportunity. For a one time cost, you can have a vehicle wrap that will last up to 5 years, what better way to advertise?
To find out about pricing and ideas that can help jumpstart your business, give 1st Impressions a call at 602-253-3332 or visit them online at info@1stimpressions.com. We will be more than happy to assist you with creating a new car wrap or even printing and installing an idea and design that you already have in mind. We are here to assist you and help make your business grow, remember you only have one chance at a first impression, together, let's make it memorable.
About the author: Dan Deary is president of 1st Impressions Truck Lettering, a 3M Certified Vehicle Wrap shop located in Phoenix, Arizona.